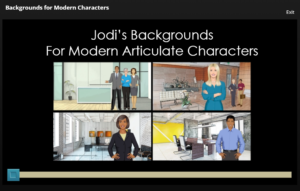 A couple months ago I created an e-learning demo for one of Articulate's weekly challenges.  I received some great positive feedback on the background I used.  It was an office background that I adapted to be stylistically consistent with Storyline's Modern Illustrated characters.
I like the clean look of the modern characters, but I have trouble finding backgrounds that are compatible.  So I started creating my own from photos I have take in office buildings, hotels, and restaurants.
This demo includes some of my favorites.  Let me know what you think and feel free to download the raw file to use the backgrounds.